Latest On The Nocturnal Nina Blog
Nina: I'm so excited to introduce you to Tif Marcelo. I met her at the Romance Writers of America National Conference. She believes in the power of love, great food and coffee. How could I not want to get to know her?
Tif: Thank you so much for having me on your blog, Nina! I love connecting with other authors. It's really one of the blessings of being one. I'm inspired by the work ethic and passion of others and it keeps me going! So glad to have met you at the RWA National Conference.
Nina: I enjoyed connecting with you too! Thank you for being here. Is there a talisman or something habitual that keeps you motivated or on task with your writing?
Tif: The only real habitual thing about me is that I get up early to write—usually around 5 am. Though not a hundred percent successful in getting all the work done, I've attributed most of progress on my first series to this stolen time. After my 5 am sessions, I'm ready by the time everybody else in my family is up, and it kind of sets me up for a productive day! With that said, I am a planner nerd! I look at my daily to-do list often, a constant reminder of what I need to get done, and what I need to prioritize.
Nina: What is your favorite food or beverage reward while writing or for finishing a book?
Tif: Coffee. Coffee. And Coffee. I like mine without sugar and with a little bit of coconut milk. I also love crunchy, savory snacks: raw almonds, popcorn, tortilla chips etc.
Nina: How do romance novels bring magic to the world?
Tif: Ah! It's my belief that romance novels open the realm of possibility of love, that it's attainable for everyone. Because the point of it is to bring people together to end in a happily ever after, romance reminds people that dreams—whatever they may be—can come true. Hope can be seen through the characters and their story arc, while they strive to meet their love interest in the middle. Romance plot and obstacles show that struggles in life are inevitable, though not impossible. Since love is truly what brings people together, romance, I believe, is literature for everyone.
About the Book
When an entrepreneur and an Army reservist end up in their own reality show fauxmance, they have to decide whether their love exists just for the cameras…or if it's for real in this warmhearted romance, perfect for foodies and wine lovers!
Bryn Aquino, the former manager of a Filipino restaurant, knows the value of hard work. With a shiny new MBA in tow and an investor, she's ready to start her own business: a culinary retreat where visitors can relax, cook, and enjoy life's simple pleasures. Dubbed Paraiso Retreats, she leases the childhood home of army reservist Mitchell Dunford—who returned from Afghanistan to revive his family's vineyard—but finds herself in a bind when her investor pulls out of the business.
When the retreat catches an internet live stream producer's eye through social media channels, Bryn is offered the opportunity of a lifetime—to document her journey in exchange for a hefty paycheck. Excited, Bryn happily agrees to the arrangement…only to find out that she's going to have to fake an onscreen romance with her indifferent landlord in order to keep her audience interested.
As Mitchell and Bryn put on a show for the cameras, they find their romance isn't hard to fake. They've got more in common under their bluster, banter, and doubts. As their relationship heats up and the cameras keep rolling, the line between show and reality blurs. And when the pressures of family, business, and the audience stack against them, will their romance survive internet stardom? Or was it just for show?
Excerpt
BRYN
It's only when the lights of the vans disappear that the muscles in my body relax, but just for a moment, because the gravity of what I signed up for descends like dusk. Starting Monday, my home and my words will be transmitted to the rest of the world.
Shit. What have I done?
The sound of gravel crunching from behind makes me turn. It's Mitchell, walking down the path. He's in cargo hiking pants and a thin forest-green fleece jacket. His head's covered with a beanie.
My heart beat quickens at this fine specimen of a man. I hate to admit it even to myself, because I don't want to let it show on my face. There's such a short distance from my brain to my mouth and my expressions, and no filter exists.
Or so I've been told. To admit he is droolworthy would serve no purpose. As his tenant, I can only show him my professional persona, just as customers saw me as True North's manager: fair, firm.
And I bet that he's firm, in more places than one. My eyes travel the length of his perfectly proportioned body, broad shoulders, pulled back with pride. We've kept out of each other's way the last few days, but I've watched his daily work with the vines.
He's made for a good view in the morning.
"Ms. Aquino." He addresses me all businesslike. So I paste on my equally flat poker face and pull my brain from the gutter.
"Mr. Dunford. Let me guess, you were watching me and didn't like how I was standing here admiring the trees."
"Someone's got to keep you in check." He pauses. "I'm here because we need to set some parking rules. You can't allow your guests to park on Dunford's main driveway. That's what the meadow is for. Parking on the driveway keeps from any other vehicle from coming up and down the hill safely. So guess whose truck is parked at the bottom? Yep. Mine."
"Crap, I'm sorry. It won't happen again." My answer is sincere, but I falter. Yes, yes it might happen again. Or it will, because Monday the camera crew will be here, along with the contractors and . . . "Actually, Mitchell, that's something we need to talk about."
About the Author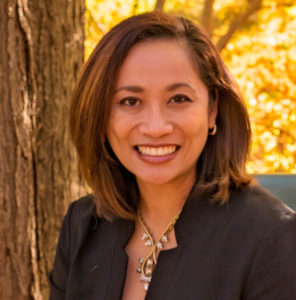 Tif believes in and writes about heart-eyes romance, the strength of families, and the endurance of friendship. A veteran Army Nurse with a Bachelor of Science in Nursing and a Master of Public Administration, she is a craft enthusiast, food-lover and the occasional half-marathon runner. As a military spouse, she has moved nine times, and this adventure shows in some of her free-spirited characters. Tif currently lives in the DC area with her own real life military hero and four children.
Website | Facebook | Twitter | Instagram | BookBub