Nina Crespo: Summertime means vacations, getting away from it all, escaping everyday life for fun and adventure. What do you like about the warmer months and what's on your list of summer fun?
Nicole Elizabeth Kelleher:  That's a tough question for me to answer. I'm one of those people who has reverse SAD (Seasonal Affective Disorder). I revel in cold winter nights and dreary spring days. What better time is there to cuddle up with a good book, or my family, usually both? The super hot summer months have me hiding out in air-conditioned bliss—also cuddling up with a good book!
Readers, if you're looking for a summertime read to escape into, read Nicole's historical romance, The Queen's Dance. Enjoy!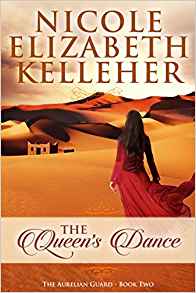 To save a kingdom, she may have to sacrifice her heart.
Lady Claire is the brightest addition to the queen's retinue, but she hides a secret that could change the fabric of Aurelia: she can foretell another's fate. This curse has only brought her sorrow, and because of it, she vows never to give her heart to anyone. But Trian, a shy Aurelian Guard, has fallen hard for Claire, and when King Godwin assigns him to escort her across the realm, he jumps at the chance.
When they are thrown together, Claire discovers that Trian may be the one person who is immune to her powers, and friendship takes hold. Trian teaches her his unique way of seeing the world, and Claire tutors him in the healing arts. She realizes too late that she has done that which she promised she would never do: she falls in love.
Her greatest fear is realized when Trian is knocked down by deadly quarrels. His assailants transport Claire far from Aurelia to the foreign lands of Nifolhad. To return home, Claire will need to cross the most treacherous parts of the kingdom, from the merciless desert to cities where spies listen to every whisper. She allies herself with the women from the Fenrhi Temple, who possess powers beyond Claire's comprehension. Their customs and secrets seduce her, while plots and machinations drag her into the very heart of the battle for Nifolhad's throne.
If she ever hopes to return to those she loves, Claire must overcome the most perilous challenge of her life and embrace her curse as a gift.
Amazon | B&N | iBooks | Kobo | Google Play |
Excerpt
Lark wondered why he had never before noticed the clouds of Cathmar as he lay flat on his back staring up at a sky so pale and thin that, if he could just reach it, he could rend it open one-handed. Mere wisps, the clouds were, nothing like the billowing masses drifting over the rest of the realm. The blue of the northern sky looked stretched, as if the expanse might rupture with the slightest breeze. Of course, there were no breezes in Cathmar. Only wind. Lark took a great gulp of air, his lungs unclenching as his own breath was returned to him.
He heard barking laughter above him, but turned instead to see Trian holding his own against his cousin Cordhin. It had been Terrwyn, Trian's older brother, who'd knocked Lark flat. That was the way of the Cathmarans: any reason to brawl was a good one. Lark loved Trian's family. And that Terrwyn attacked him so ruthlessly was testament to the fact that they counted Lark as one of their own.
His bear of a friend was locked in combat with Cordhin, neither one gaining nor giving ground. Though nearly as tall as Lark himself, Trian was a mere cub compared to his barrel-chested male relatives. Cordhin was greater in size and strength, but Trian was faster, both in body and in wit. It had been his friend's wit that had started this trouble.
Lark grimaced. He had been enjoying the thick grog the Cathmarans preferred, and was feeling quite at ease. He and Trian were due to depart the next day, and Terrwyn wanted to send them off properly, pouring round after round into their cups.
Aside from being apart from his wife and daughter, the only disagreeable aspect of their journey had been Cordhin. The cousin was a constant needle, jabbing Trian at every opportunity with choice words and veiled insults, usually having to do with Trian's proportions.
Here at Cathmar, where girth of chest was more important than height, Trian was the brunt of many a jest—delivered more oft than not by his cousin. Cordhin had just proclaimed that Trian was the runt of the house, smaller even than some of the women. Trian, with his ever-calm demeanor, took each sting with a serene expression. Lark knew better.
To forestall the coming storm, Lark had suggested that Trian test him on his knowledge of the rugged dialect that was still spoken in the remote states of Cathmara. It had put Cordhin off, at least for a short time, while Lark provided translations to the words Trian threw his way. Then Trian gave Lark the word dhin. Simple enough. It meant "tiny" or "small". Terrwyn smothered a smirk that left Lark wondering.
"And corai?" his friend asked.
"Spear or sword, if I'm not mistaken," Lark answered, unaware that, next to him, Cordhin was turning purple. "And if put together," he continued blindly on, "you get coradhin, or 'little dagger.'"
Terrwyn blew out his grog. When Trian winked, Lark grasped the meaning of Cordhin's name, and his laughter echoed off the castle walls. Like all Cathmaran women, Cordhin's mother had a wicked sense of humor. Trian held up his pinkie and wiggled it to renewed gales of mirth
And that was how Lark found himself staring up at the heavens. Cordhin had launched himself at Trian, and Terrwyn at Lark. Not because of familial honor, either. No, Trian's eldest brother and heir to Cathmara attacked Lark for no other reason than that he enjoyed a good scuffle.
About the Author
Author of The Aurelian Guard Series, Nicole's first book, Wild Lavender, is a 2017 NECRWA New England Readers Choice Finalist.
A graduate of the University of Michigan's College of Literature, Science and Arts, Nicole E. Kelleher studied French Literature and Language, Spanish and Chinese. During this time, she attended classes at the University of Michigan's School of Art with an emphasis on drawing, watercolor and photography.
She resides in Virginia with her children, husband, and Tully the Dog. When she is not writing or taking care of her family, she volunteers at a local organization helping the less fortunate. She encourages her friends and readers to do the same.
Website | Newsletter | Facebook | Twitter | Goodreads
Save
Save
Save