Before I became a published romance author, I was a fan of Naima Simone. I couldn't wait to reach out to her when I signed with Entangled Publishing. Yes, I did the whole embarrassing fan/reader gush (as if she didn't remember all of the books she'd written). Since then, we've had our share of Twitter chats and good laughs. She's also great at giving me a nudge to stay on task with my writing.
Nocturnal Nina presents Then and Now with Naima Simone. Enjoy!
Then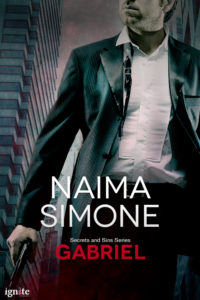 Secrets and Sins: Gabriel
Twenty years ago, Leah Bannon's beloved Uncle Richard vanished without a trace. Leah, now a private investigator, begins to suspect it was murder. When she reopens the cold case, Gabriel Devlin—-the man she loves but can never have—-inexplicably stands in her way.
Only four people know the truth about Richard's mysterious disappearance—-Gabriel and three childhood friends…who have all sworn to take that secret to the grave. But a hidden enemy wants those shocking secrets brought to light…even if he has to kill to make it happen.
After experiencing an unimaginable loss two years ago, Gabriel refuses to put himself through the pain of loving someone who could be gone in an instant. But as he thwarts Leah's investigation at every turn—-both to keep his friends' pact, and to keep her safe from danger—-the sexy PI makes it impossible for him to protect his secrets. Or his heart…
Now
Only For A Night (The Lick Series)
Rion Ward fought hard to be free of the Irish mob life. Now, as the co-owner of Boston's hottest aphrodisiac club, he's traded crime for the ultimate sexual fantasy. But when the "good girl" from his past walks through Lick's doors, he discovers that his unconsummated hunger for her never abated.
Widowed for two years from a man who felt that anything besides the missionary position was dirty, Harper Shaw is ready to move on. The first step to feeling alive again is sex. Hot, dirty, black-out-from-orgasm sex. And who better to provide it than the brooding, sexy, tatted bad boy-turned-man she's known for years?
Rion, however, has one stipulation: He'll be hers only for one night. One night to explore her every fantasy. One night to push her limits. One night to introduce her to a passion that makes both doubt if it will be enough…
About the Author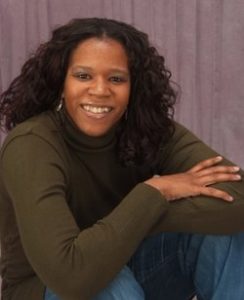 I was born the daughter of a sharecropper…okay, maybe not. But, I am the daughter of a pastor from whom I inherited my love of romance. The man can preach a mean Song of Solomon! (There's that plug, Daddy! You can pay me later!)
Although my first book starred a cucumber named Fred, my first romance came several years later in the seventh grade when I wrote myself as a heroine opposite Ralph Tresvant from New Edition. Through the power of my pen and imagination, Ralph took one look across a crowded stadium, met my dark, mysterious gaze, fell passionately in love and serenaded me in front of millions of fans. Out of all the girls in the world, he chose me! And, of course we lived happily ever after—once we had the inevitable fight, aka black moment, and made up with a passionate declaration of love and fidelity. This same story reincarnated itself many times over the years: with Donnie Wahlberg from New Kids on the Block, Brad Pitt, Denzel Washington, and as recently as last night, Vin Diesel.
Though the characters have changed, my love of love has endured. Shaping the lives of the unique men and women who experience the first, hungry bites of lust, the dizzying heights of passion and the tender, healing heat of love— nothing compares to it. Except maybe discovering new material for love scenes with my husband, the head of Research & Development!
Website | Facebook | Twitter | Newsletter