I first featured Terri-Lynne Defino on the Nocturnal Nina blog on December 15, 2015, to share Seeking Carolina with readers. Here's a Then and Now look at her previous release and her latest release.
Then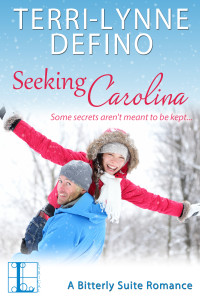 Seeking Carolina
Johanna Coco is finally home in Bitterly, Connecticut, to attend her beloved grandmother's funeral—only to be confronted by the very reason she's stayed away to begin with–Charlie McCallan. Her high school sweetheart is now divorced, and no longer the skinny boy Johanna once loved. Hometown handsome and dependable as always, Charlie is the kind of man she needs to lean on as she and her sisters grapple with their grief—as well as the mystery of their long-missing mother, Carolina. But Johanna's heart isn't only haunted by her ghosts; it's haunted by what happened between her and Charlie…
Charlie is determined to do things right this time, and he has to do it before Johanna vanishes from his life again. First he needs to prove to her that the past is past, and they can overcome it–no easy task when he's up against the ghosts lingering in her life, trying to convince her that happily-ever-after is not in the cards for any of the catastrophe-prone Coco sisters, least of all Johanna. But her fearless first love is ready to do whatever it takes to win her back—ghosts be damned.
Amazon | BN | iBooks | Kobo | Google Play
Now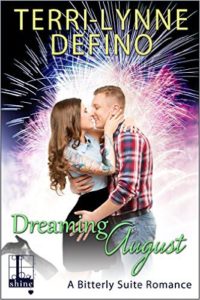 Dreaming August
Welcome to Bitterly Connecticut, hometown of one wistful widow with a very big secret….
She should have been off-limits. After all, Benedetta "Benny" Grady is his best friend's widow. But in the space of a whirlwind week, Daniel Greene went from strong shoulder to lean on to Benny's ardent lover. Now Dan is determined to make Benny his bride. He hasn't waited this long for love to let it get away so easily. But first, Benny has a few ghosts to contend with…
When Benny finds herself pregnant with Dan's child, telling him should be easy. After all, she's fallen hard for the wise-cracking bachelor. But how can she love another while remaining true to her late husband's memory? Could the past hold the key to their future happiness?
Amazon | BN | iBooks | Kobo | Google Play
About the Author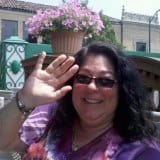 Terri-Lynne DeFino lives in a log cabin in Connecticut, but she's a Jersey girl at heart. Writer, mother, cat wrangler, and self-proclaimed sparkle queen, Terri began writing when she was seven. Though that first story remains locked away in her parents' attic, her more successful works include Finder, A Time Never Lived, and Beyond the Gate. Seeking Carolina is her first step into contemporary romantic fiction and is book one in The Bitterly Suite.