I first featured Lynn Cahoon on the Nocturnal Nina blog on December 1, 2015, to share If the Shoe Kills with readers. Here's a Then and Now look at her previous release and her latest release.
Then
If the Shoe Kills
The tourist town of South Cove, California, is a lovely place to spend the holidays. But this year, shop owner Jill Gardner discovers there's no place like home for homicide…
As owner of Coffee, Books, and More, Jill Gardner looks forward to the hustle and bustle of holiday shoppers. But when the mayor ropes her into being liaison for a new work program, 'tis the season to be wary. Local businesses are afraid the interns will be delinquents, punks, or worse. For Jill, nothing's worse than Ted Hendricks–the jerk who runs the program. After a few run-ins, Jill's ready to kill the guy. That, however, turns out to be unnecessary when she finds Ted in his car–dead as a doornail. Officer Greg assumes it's a suicide. Jill thinks it's murder. And if the holidays weren't stressful enough, a spoiled blonde wants to sue the city for breaking her heel. Jill has to act fast to solve this mess–before the other shoe drops.
Now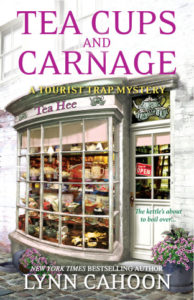 Tea Cups and Carnage
The quaint coastal town of South Cove, California, is all abuzz about the opening of a new specialty shop, Tea Hee. But as Coffee, Books, and More owner Jill Gardner is about to find out, there's nothing cozy about murder . . .
Shop owner Kathi Corbin says she came to South Cove to get away from her estranged family. But is she telling the truth? And did a sinister someone from her past follow her to South Cove? When a woman claiming to be Kathi's sister starts making waves and a dead body is found in a local motel, Jill must step in to clear Kathi's name–without getting herself in hot water.
Coming June 7, 2016. Available for pre-order.
About the Author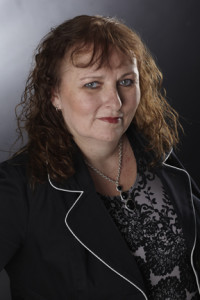 New York Times and USA Today best-selling author, Lynn Cahoon is an Idaho expat. She grew up living the small town life much like the settings she now writes. Currently, she's living with her husband and two fur babies in a small historic town on the banks of the Mississippi river where her imagination tends to wander. Guidebook to Murder, Book 1 of the Tourist Trap series won the 2015 Reader's Crown Award for Mystery Fiction.