I first featured Diana Cosby on the Nocturnal Nina blog on May 16, 2015, to announce the release of An Oath Broken. Here's a Then and Now look at her previous release and her latest release.
Then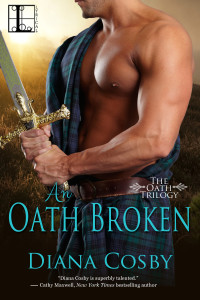 Giric Armstrong, Earl of Terrick, takes no pleasure in escorting a feisty English lass to her betrothed. But he needs the coin to rebuild his castle, and his tenants need to eat. Yet the trip will not be the simple matter he imagined. For Lady Sarra isn't the only one determined to see her engagement fail. Men with darker motives want to stop the wedding—even if they must kill the bride in the process.
Excerpt
Three blasted days now she'd made him and his men wait, and with her heading to her chamber, the lass would make it four. By God, he would speak with her this night!
Once shielded from the great hall, Giric Armstrong, Earl of Terrick, took the steps up the turret two at a time. A wisp of her ivory linen gown twisted ahead of him with an elusive swirl, then was lost in the shadows.
Giric rounded the corner and caught her figure clearly silhouetted within the torchlight from the wall sconce. "Lady Sarra."
Leather kid slippers scraped over stone as she turned. The flutter of flames outlined her like a dark angel. Wariness flared in her eyes.
He took a step closer, damning her beauty, lured by her spirit.
Her hand slid to the side of her gown. With a flick of her wrist, she withdrew a slim dagger from the folds. "Halt." Her ominous warning echoed in the darkened void, edged with a hint of fear.
Saint's breath, did the lass think she could hold her own against him with a mere blade? "I mean you no harm, my lady. I wish but a brief moment of your time."
That small pert nose lifted a fraction, like a warrior would raise his shield. "How dare you steal about and corner me in my own home."
"If you had talked to me instead of avoided me, I would nae have had to resort to such extreme measures."
A sliver of torchlight glinted off the dagger in her hands. "Leave me. I will grant you an audience when I deem the time appropriate."
If she believed he could be swayed by flashing a weapon before him or a terse command, she was about to learn otherwise. He wasna one of her servants she could order about. He took a step closer. "We need to discuss our departure."
Amazon | BN | Kobo | Kensington
Now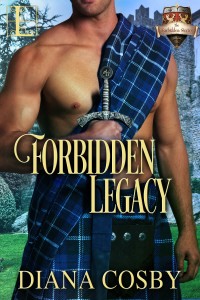 When the English murder Lady Katherine Calbraith's family, she refuses their demands to wed an English noble. After Katherine's daring escape, she's stunned when Scotland's king agrees to allow her to return to Avalon Castle, but under the protection of Sir Stephan MacQuistan . . . as the knight's wife. To reclaim her heritage, Katherine agrees assured that regardless of the caliber of the man, Stephan may earn her trust, but he'll never win her love.
A Knights Templar, Sir Stephan MacQuistan desires no bride, only vengeance for a family lost and a legacy stolen. A profound twist of fate tears apart the brotherhood he loves, but offers him an opportunity to reclaim his legacy – Avalon Castle. Except to procure his childhood home along with a place to store Templar treasures, he must wed the unsuspecting daughter of the man who killed his family. To settle old scores, Stephan agrees aware Katherine is but a pawn in a dangerous game, not a woman he will ever love.
Amazon | Amazon CA | Amazon UK | BN | Kobo
About Diana Cosby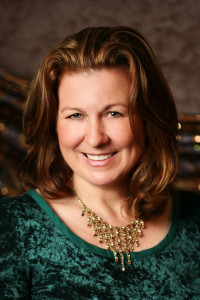 A retired Navy Chief, Diana Cosby is an international bestselling author of Scottish medieval romantic suspense. Her award-winning books are translated in five languages. Diana has appeared at Lady Jane's Salon, in NYC, and in Woman's Day, on USA Today's romance blog, "Happily Ever After," MSN.com, and in Texoma Living Magazine.
After retiring as a Navy Chief, AGC(AW), Diana dove into her passion – writing romance novels. With 34 moves behind her, she was anxious to create characters who reflected the amazing cultures and people she's met throughout the world.
Her years of living in Europe inspired Diana to write in the medieval time frame. After watching the movie Braveheart and with her passion for writing complex plots, the idea for the MacGruder brothers series was born.
With the release of her 1st book in her new Scottish medieval The Oath trilogy, An Oath Taken, which hit bestseller lists in Canada and the United Kingdom, she's now preparing for the release of the e Box Set of the MacGruder Brothers series on February 24th, and the last two books in The Oath trilogy, An Oath Broken – 22 June, and, An Oath Sworn – 23 December, 2015!
Diana has many passions in life, but one that resonates in her life is that of giving. She firmly believes that each of us can make a positive difference in another person's life and supports several charities. Find Diana online at www.DianaCosby.com and on Facebook.