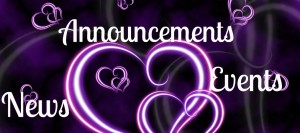 Hello! I hope January was a great start to the new year. I've been busy finishing the last book in The Song series, but I can't wait to share my upcoming release, REID'S DELIVERANCE, on March 15, 2016.
What's on the horizon? You'll be the first to know as soon as I have the details. Recently, I read a quote that resonated with me as I think about the future —"Be Open to Whatever Comes Next". I'm open to learning more, meeting new people, and receiving opportunities beyond my imagination! I'm looking forward to pushing past my upper limit and becoming comfortable with the uncomfortable as I stretch myself beyond the same old thing. Something great happening in your future? Feel free to share your good news in the comment section.
If you didn't receive my newsletter with the latest 3 SIZZLING HOT DEALS AND EVENTS, click here to find out what you missed.
I'll be in touch. In the meantime, enjoy all the good that's coming your way!
Nina