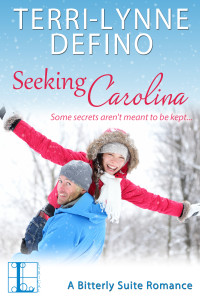 Johanna Coco is finally home in Bitterly, Connecticut, to attend her beloved grandmother's funeral—only to be confronted by the very reason she's stayed away to begin with–Charlie McCallan. Her high school sweetheart is now divorced, and no longer the skinny boy Johanna once loved. Hometown handsome and dependable as always, Charlie is the kind of man she needs to lean on as she and her sisters grapple with their grief—as well as the mystery of their long-missing mother, Carolina. But Johanna's heart isn't only haunted by her ghosts; it's haunted by what happened between her and Charlie…
Charlie is determined to do things right this time, and he has to do it before Johanna vanishes from his life again. First he needs to prove to her that the past is past, and they can overcome it–no easy task when he's up against the ghosts lingering in her life, trying to convince her that happily-ever-after is not in the cards for any of the catastrophe-prone Coco sisters, least of all Johanna.  But her fearless first love is ready to do whatever it takes to win her back—ghosts be damned.
Amazon | BN | iBooks | Kobo | Google Play
About the Author
Terri-Lynne DeFino lives in a log cabin in Connecticut, but she's a Jersey girl at heart. Writer, mother, cat wrangler, and self-proclaimed sparkle queen, Terri began writing when she was seven. Though that first story remains locked away in her parents' attic, her more successful works include Finder, A Time Never Lived, and Beyond the Gate. Seeking Carolina is her first step into contemporary romantic fiction and is book one in The Bitterly Suite. Dreaming August releases in April 2016, and Waking Savannah in October 2016.