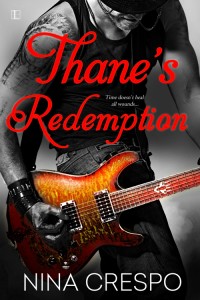 I'm excited to announce that THANE'S REDEMPTION is on sale for a limited time! Need a sexy bedtime story or a quick weekend read? Thane and Celine's story is the perfect choice.
REID'S DELIVERANCE, book two in The Song series, is also on the horizon. I can't wait for the cover reveal. Sign up for my newsletter and receive an exclusive sneak peak into Reid and Lauren's story.  Share the latest news with your girlfriends, besties and family, and of course, keep in touch.
Until then, enjoy cupcakes with extra frosting and sprinkles. I insist!
***
The one night she'll want to remember, she'll be forced to forget.
It's been almost a year since Celine's fiancé's death, and she's still struggling to move on. But when she meets Thane, the super hot lead singer of Thane's Redemption, she finds her desire reawakening, and her heart opening. Soon one kiss leads them straight into a night of heated passion…(read more)
Devilishly Delicious Book Reviews:
"If you are looking for something that is a quick read, has super spicy sex scenes and will leave you begging for more, this is the book for you!" 
BUY: Amazon  Barnes&Noble  iBooks  Kobo  AmazonUK  AmazonCA Google