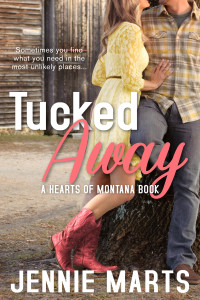 Charlie Ryan's cheating fiancé left her with a broken heart and even broker bank account. She's hit rock bottom, but everything is about to change. Suddenly, she's inherited a Montana farm named Tucked Away from a grandmother she never knew existed. A fresh start is just what she needs—and no men in her future this time, even if the local vet is as hot as a Montana summer.
Zack Cooper is content with his simple life. Running his veterinary practice and raising his daughter are enough to keep him busy, and he doesn't need a high-maintenance city girl like his ex who plans to sell her grandma's ranch and split faster than a setting sun. So why can't he stop thinking about Charlie and her hot-pink cowboy boots…and the way her eyes say she wants to stay while her lips tease him with plans of leaving?
Just when both start to believe love might be worth the risk‪…one night will change everything.‬
About the Author
Jennie Marts loves to make readers laugh as she weaves stories filled with love, friendship and intrigue. She writes for Entangled Publishing and reviewers call her books "laugh out loud" funny and full of great characters that are "endearing and relatable."
She is living her own happily ever after in the mountains of Colorado with her husband, two sons, two dogs and a parakeet that loves to tweet to the oldies. She is addicted to Diet Coke, adores Cheetos and believes you can't have too many books, shoes or friends.
Her books include the contemporary western romance, Tucked Away, and the romantic comedy/mysteries of The Page Turners series, which include: Another Saturday Night & I Ain't Got No Body, Easy Like Sunday Mourning, and Just Another Maniac Monday.
Jennie loves to hear from readers. Follow her on Facebook at Jennie Marts Books or Twitter at @JennieMarts. Visit her at www.jenniemarts.com.