ONE PERCENTER is the first book in D.R. Graham's NOIR ET BLEU MOTORCYCLE SERIES.
when you love people the rest of the world is terrified of…
 Eighteen-year-old Tienne Desrochers grew up in the rough world of the Noir et Bleu Motorcycle Club. Bikers. Family. Outlaws. But after her dad's murder, she decides she's had enough. Refusing to end up like her drug-addicted mom, Tienne grabs her younger brother and leaves it all behind…including her boyfriend, Aiden Gyllenhall.
More comfortable in the middle of a bar fight than at a country club, living with her wealthy aunt and uncle is an adjustment, to say the least. No swearing. Designer shoes that pinch. And charming, corporate types like Leland Crofton instead of super-sexy, tattooed Aiden. But even the upper class can't escape the toxic touch of underworld violence. And this time, Tienne won't just learn who she really is—she'll learn who has her back.
About D.R. Graham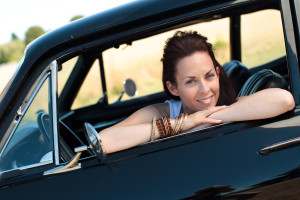 D.R. Graham is the author of RANK & the BRAMPTON BEACH series (Summer 2015) for HarperCollins, and the NOIR ET BLEU MOTORCYCLE SERIES for Entangled Publishing. She worked as a social worker with at-risk youth for seven years before becoming a therapist in private practice. The clients she works with are children and teenagers and her novels deal with issues relevant to young and new adults in love, transition, or crisis. She is also an award winning columnist for the Richmond News. She currently lives in Vancouver, British Columbia with her husband.
Website – http://www.drgrahambooks.com/books.html
Facebook – https://www.facebook.com/drgrahambooksauthor?ref=hl
Twitter – https://twitter.com/drgrahambooks
Pinterest – http://www.pinterest.com/drgraham/