CAUGHT WITH THE CAPTAIN'S DAUGHTER (Love on Deck #3) special release price of 99 cents through Tuesday, March 17, 2015.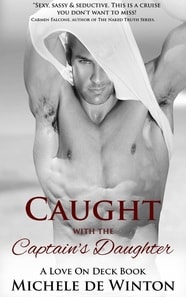 Put a hot tempered cook on a cruise ship, add chilli sauce, a nasty captain, some seriously sexy crew, shake, and step back so you don't lose an eye…
Working in a floating tin can was never on Charlotte Atkinson's list of dream jobs, but if she's ever going to open her own restaurant again, she needs to make nice with her Pop, and working on his cruise ship is her last option. Even the Captain's little girl needs to let her wild red hair down though. And who better for a no-strings night of fun, than the ship's hot security officer who also carries the player badge?
Since leaving the family firm and the pressure that was sucking his soul, Jeremy Turner has made chasing tail his top priority. No commitments, no mess. Stands to reason then that having a hot one-nighter with the Captain's daughter was always going to be a bad idea. Letting it turn into anything more? Lunacy. But Jeremy hadn't counted on Charlotte burning up his sheets and getting under his skin quite so easily.
When Charlotte goes missing, nothing will stop Jeremy seeking out his forbidden temptress. And as the search goes on, Jeremy realizes he might have left it too late to discover that he doesn't want to be a player forever.
About Michele de Winton
Being a writer was not what I was supposed to be when I 'grew up'. But then neither was being a dancer! It's no wonder a little sparkle of the stage is often in my work. Living in in New Zealand with my husband and two small boys after traveling a plenty, I write from an office where the sound of the tapping keyboard is the only distraction. Okay, that's a lie. Those boys are noisy, and busy, and into everything, but then, what boys ain't? I find wine very useful for tempering reality, and chocolate helps too, especially when it's mixed with alcohol.
I like my heroines smart and sassy. Girls can do anything. right? My heroes have to be a match as well, so you can count on men who know just how to make a woman melt. And I always kiss and tell. Come distract me on Twitter, Pinterest, my author page, Facebook or on my website.
Website – http://www.micheledewinton.com/
Twitter – https://twitter.com/MicheledeWinton
Pinterest – https://www.pinterest.com/MDWinton/
FB – Profile – https://www.facebook.com/michele.dewinton?ref=tn_tnmn
FB Author page – https://www.facebook.com/pages/Michele-de-Winton-Author-Page/155966894515844?ref=hl
FB – Street team – https://www.facebook.com/groups/623023024473844/682623831847096/?notif_t=group_activity