I love music.
If you're like me, you may not easily recall what you had for dinner last week, but you can't forget your favorite songs. It never fails. In the car, at the store, working out at the gym or at home, when your song comes on something happens. Don't lie. You either sing, dance, smile or laugh. Possibly you do all of them!
It never amazes me how music can bridge the gap of understanding or communication. In a different city or country? Find the nearest friendly club, concert or social venue playing the music you like, and suddenly you're no longer alone. Can't find the words to express to someone how much your care about them or you're sorry for messing up? You can find exactly what you need to convey in a song.
Yes. Sometimes music causes conflict or stirs up bad memories, but I prefer the good music can bring. I've witnessed a lullaby soothe a fussy baby and calm the mind of a person plagued by dementia. I've seen it stop an argument and renew relationships. Personally, music has calmed me under stress. I also believe music can aid in healing body and spirit.
In THANE'S REDEMPTION, music is something that keeps the hero whole. Music and the band are Thane's salvation. The one thing that no matter what else changes in his life will always be there and never change. One of the sides we don't get to see in this short story is him alone, playing one of the guitars in his collection and finding peace. Then he meets Celine and she changes his outlook on the world. She is the only woman he could imagine opening up to about his music, secret life and mission. He realizes one night with her or an imaginary day isn't enough. He wants it all, but time isn't on their side.
I hope you'll take a minute to enjoy my short story which is the first in a series with two full-length books planned in the future. Also, don't forget the Sexy Supernaturals Facebook Bash on Tuesday, March 3rd from 8-10 p.m. Join in the virtual fun of excerpts from guest authors, sharing about book boyfriends, and giveaways.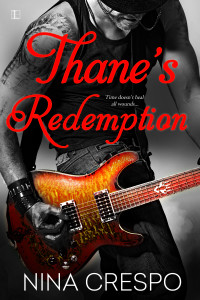 Afterwards turn on your favorite song, smile, let go, and see where the music takes you. And as always, take a little time to enjoy all the wonderful things that happen at night.