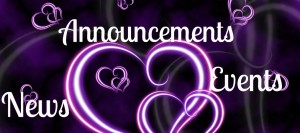 Reading, Writing and Wellness will be the featured topic on my Nocturnal Nina blog the week of September 29th-October 3rd. I'll share guest posts from fellow authors Linda Bond, Lynn Cahoon, Marcie Kremer, Selena Fulton,  Megan Morgan, and Amanda K. Byrne.
Take a mini break from your busy day, and enjoy their thoughts on how reading a good book, writing a great story or making room for balance has added happiness, laughter and valuable lessons to their lives.
Wellness is important to me, and like many, I've experienced health issues and disappointments. Instead of telling you the details, I'll share the truths I've learned on my personal wellness journey.
** As long as the body has breath it strives to heal itself.
** Beliefs can create biology as well as my circumstances.
** It's hard to move forward if I'm always looking back.
** Never confuse inconvenience with impossibility.
**I am. I will. I can!
Number four is a challenge. It's easy to prioritize plotting the next story over a nice long walk or a trip to the gym. Bad habits show up on my doorstep the same day my characters decide not to cooperate. Convenience versus what's good for my body and mind tempts me in the midst of tight deadlines.
I'm embracing the challenge because I realize I'm a work in progress. Life is an unfolding journey. Instead of dwelling on the past, I give myself a good hard nudge in the right direction. I take another shot, another step, another chance.  You can, too. I believe in you. Let's do this!
Need more inspiration? Stop by and read the guest posts featured September 29th-October 3rd. In the mean time, enjoy life and all the good things that happen at night!