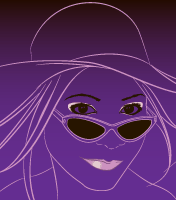 Welcome to Nina Nocturnal!
I'm a "sun baby", and I love being out-and-about in the afternoon but according to my husband, I'm also a reformed vampire. I thrive in the night, especially between ten at night and two or three in the morning. When I decided to write a blog, it just made sense that I'd share what I'm doing, what I wish I were doing or what I should or shouldn't be doing in the middle of the night.
While you're here, I hope you'll take a look around http://ninacrespo.com/. There are a variety of ways that we can keep in touch, including Facebook, my newsletter, and if you're into contemporary romance, my books. I look forward to connecting with you, and in the meantime, enjoy the night!